Must-Haves in Home Improvement
Trendy bathroom tile, exposed kitchen shelving, or state-of-the-art appliances­ — when it comes to buying and selling, which parts of a home are red flags, and which help to seal the deal?
Before you spend too much time (or money) upgrading parts of your home that will never pay you back, let's take a closer look at what nearly 1,000 recent homebuyers had to say about their most-wanted features. We'll explore what homebuyers desire most, what strikes them most about a home while shopping, and the features that lead buyers to up their offer.
Striking Structures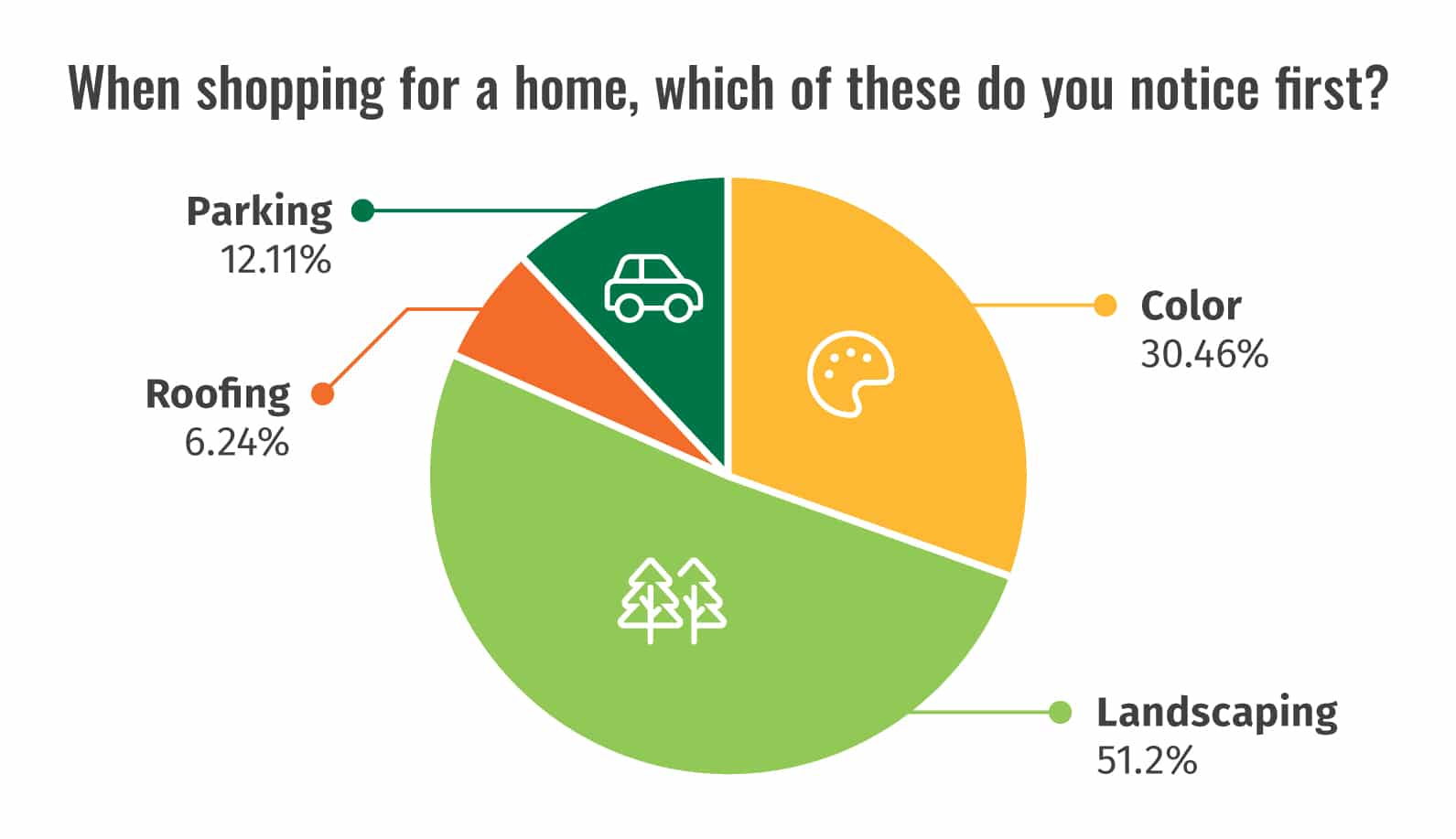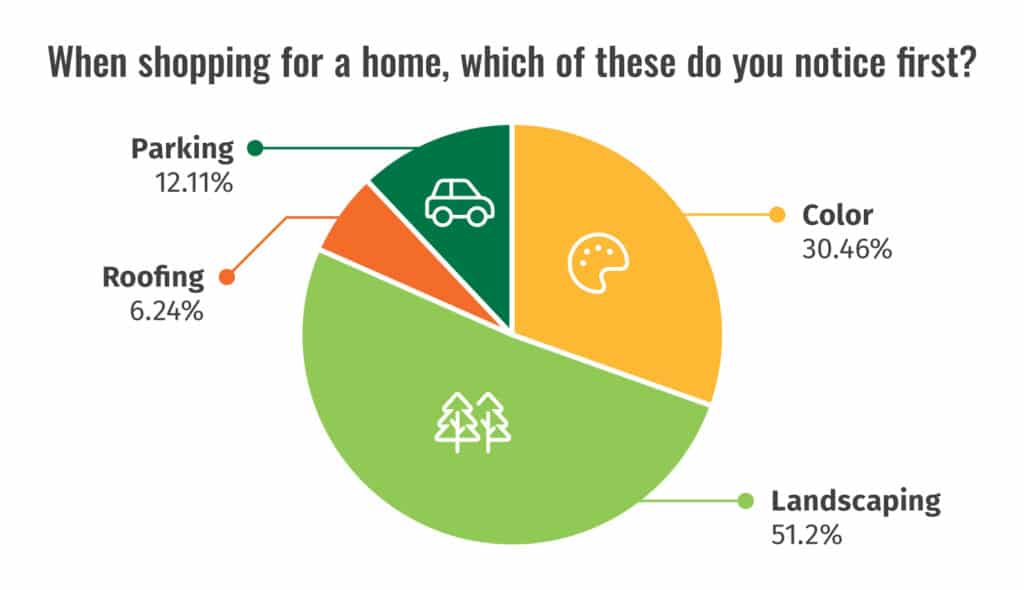 We all know that curb appeal matters when it comes to determining the value and marketability of a home. Our survey outlined which home improvement projects are worth it, and which take the back seat while selling a home.
Beautiful landscaping was the most influential component for homebuyers while shopping, with over 51 percent ranking it as the very first thing they notice. Not far behind green grass and lava rocks was paint color. Painting a home completely defines its personality. From a stark white, modern 3-bedroom, to a funky bright townhouse near the city, nearly 31 percent of respondents admit: color has a big impact.
A new roof and convenient parking were less immediately recognized by shoppers; however, these elements weren't completely ignored. 12 percent were looking for their pull through driveway right away, and a solid 6 percent would have identified that loose roof shingle.
What Are Homebuyers Looking For?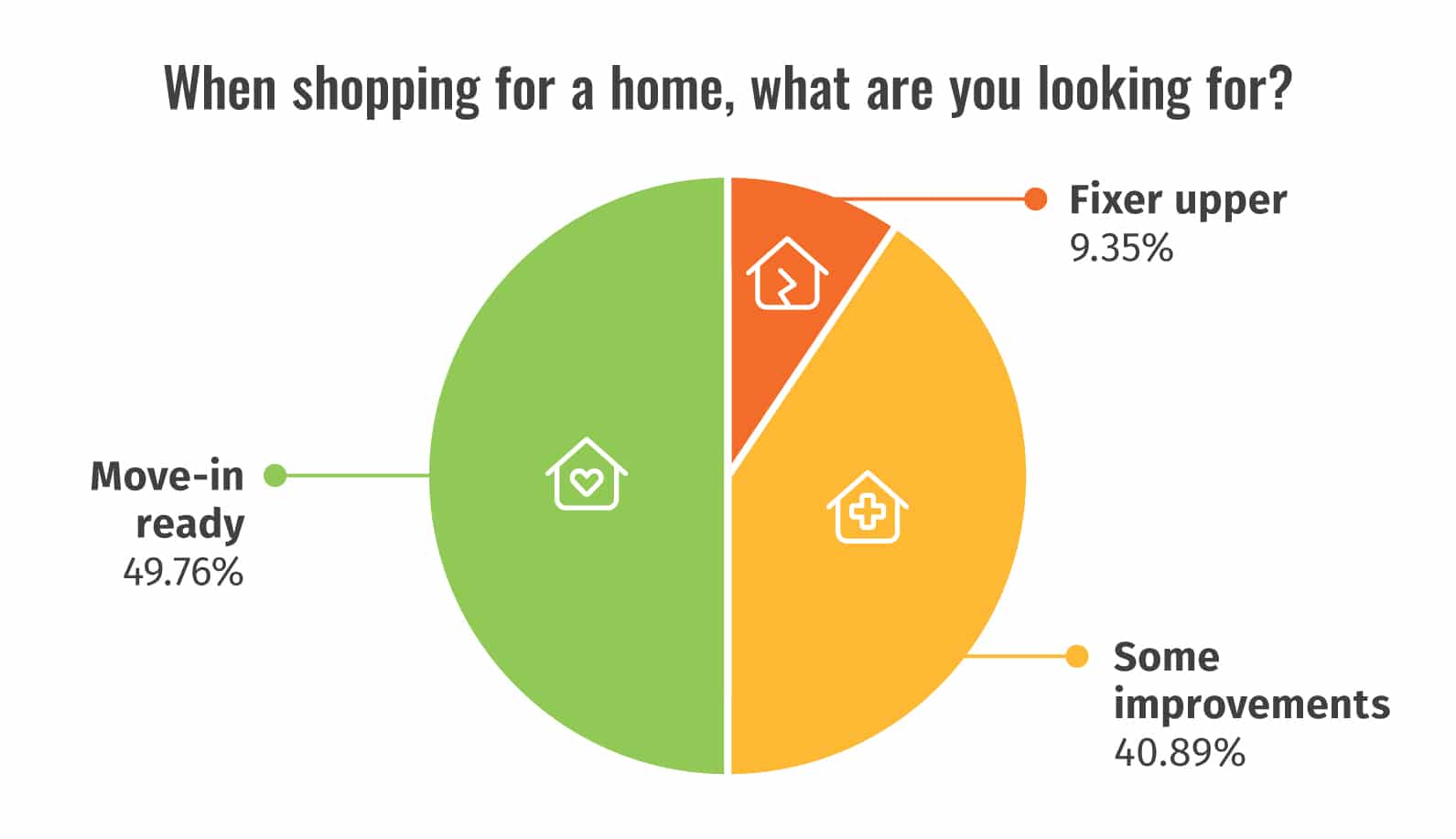 Looks like Chip and Joanna Gaines are in the vast minority. Only 9 percent of shoppers are looking for a fixer upper. Turns out, the bargain isn't always worth the hassle of completely gutting a home. Stainless steel appliances and a neutral, modern coat of paint is just too tempting for most. Nearly 50 percent of shoppers want a move-in ready home.
However, if your home falls somewhere in the middle, don't lose hope. Nearly 41 percent of homebuyers are willing to put in a little elbow grease. Don't feel like you need to replace your 2018 Frigidaire for a Viking 7 Column. Many buyers are just looking for a fresh coat of paint and an open concept floor plan.
Useful Updates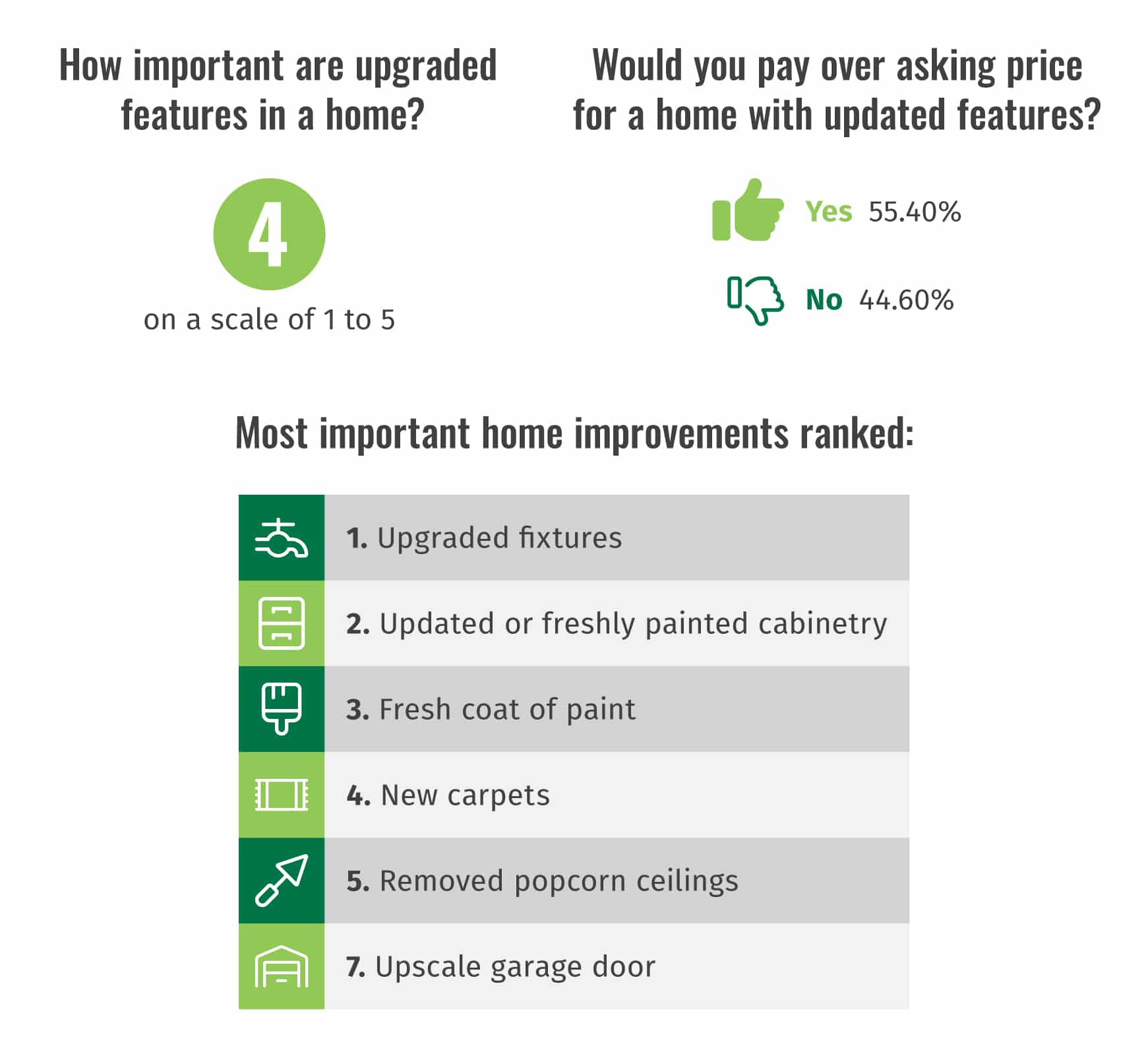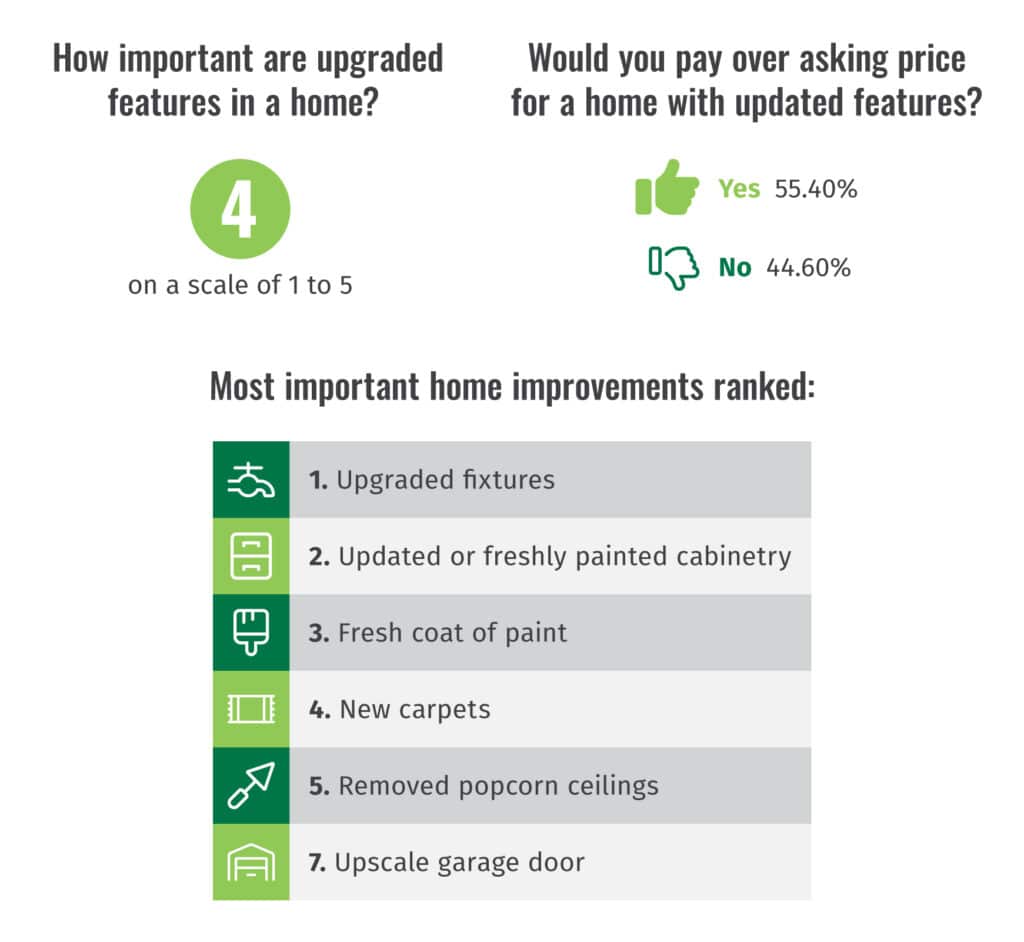 Buyers rank updated features at a 4 on a 1–5 scale, meaning you're likely not going to get very much for your kitchen straight out of the 80s. In fact, these buyers are ready to pay a pretty penny for their updates. Over 55 percent of buyers will pay more for a home with updated features like new fixtures and freshly painted cabinets.
Speaking of, let's dive into those features buyers are most interested in. Fixtures topped our list as being most valuable to our buyers. Next came updated or freshly painted cabinetry. In third place, buyers valued a fresh coat of paint. New carpets, removed popcorn ceilings, and an updated garage door made the list at 4th, 5th, and 6th respectively.
Depending on your budget, this list could very well guide your investments and increase your return when you sell!
Prioritizing Paint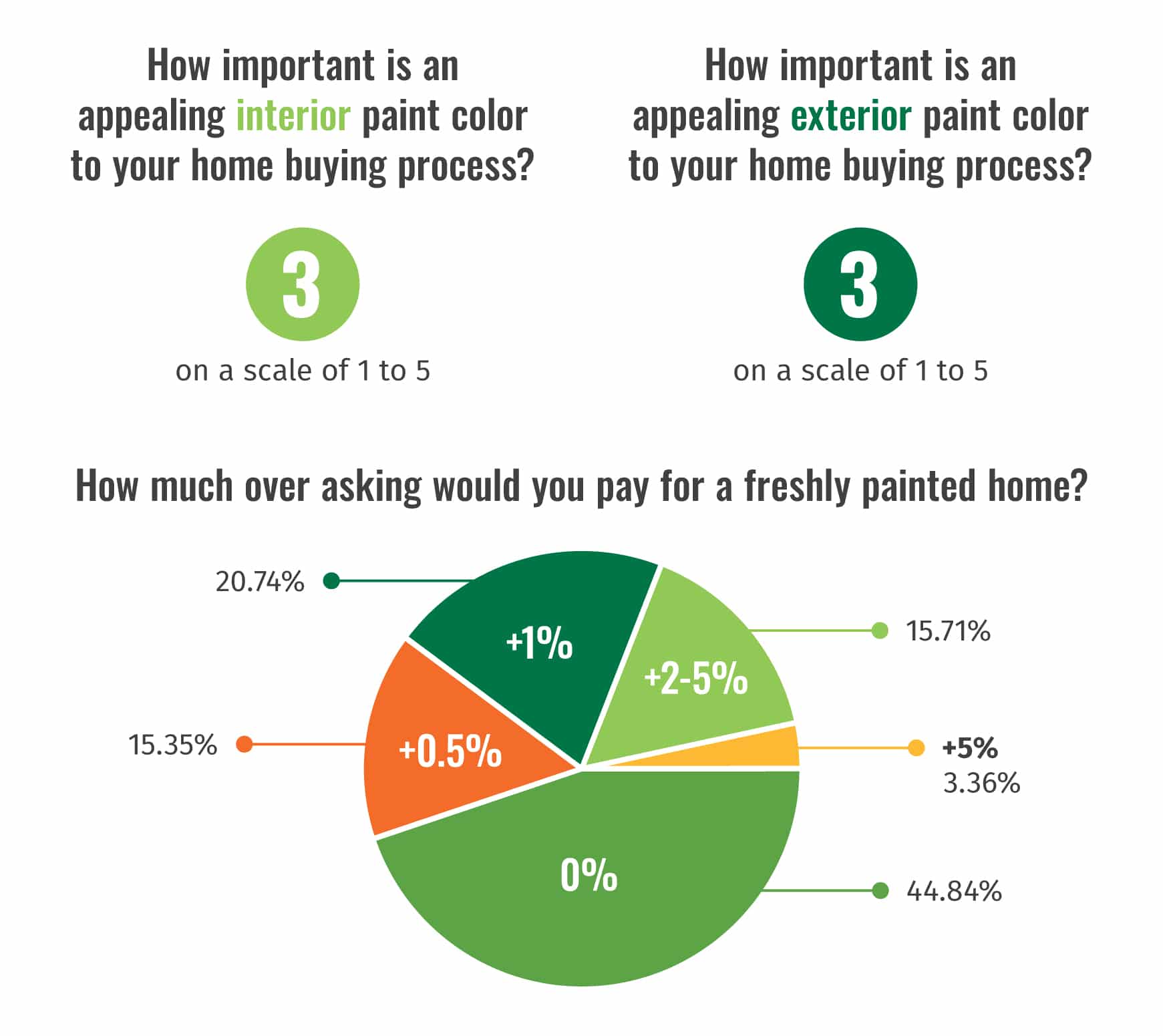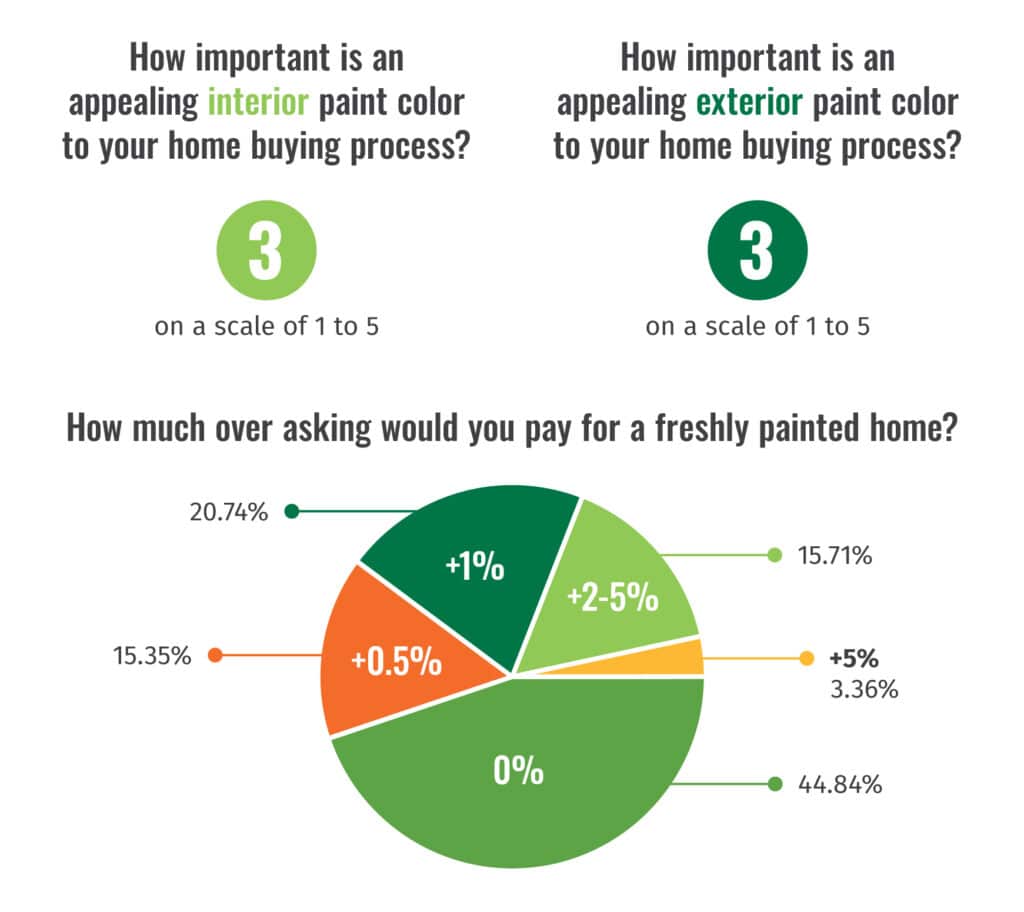 Since so many buyers are persuaded by paint, we wondered — could it completely influence their purchase? Appealing paint on the exterior and interior of a home were rated 3 in importance on a scale from 1–5. In fact, over 55% will pay more for fresh paint.
What's more, over half of our respondents will pay the big bucks for that fresh coat. Nearly 20% will pay 2–5 percent over asking to avoid the hassle of finding and hiring a professional paint contractor to revamp their new home!
Haggling Homebuyers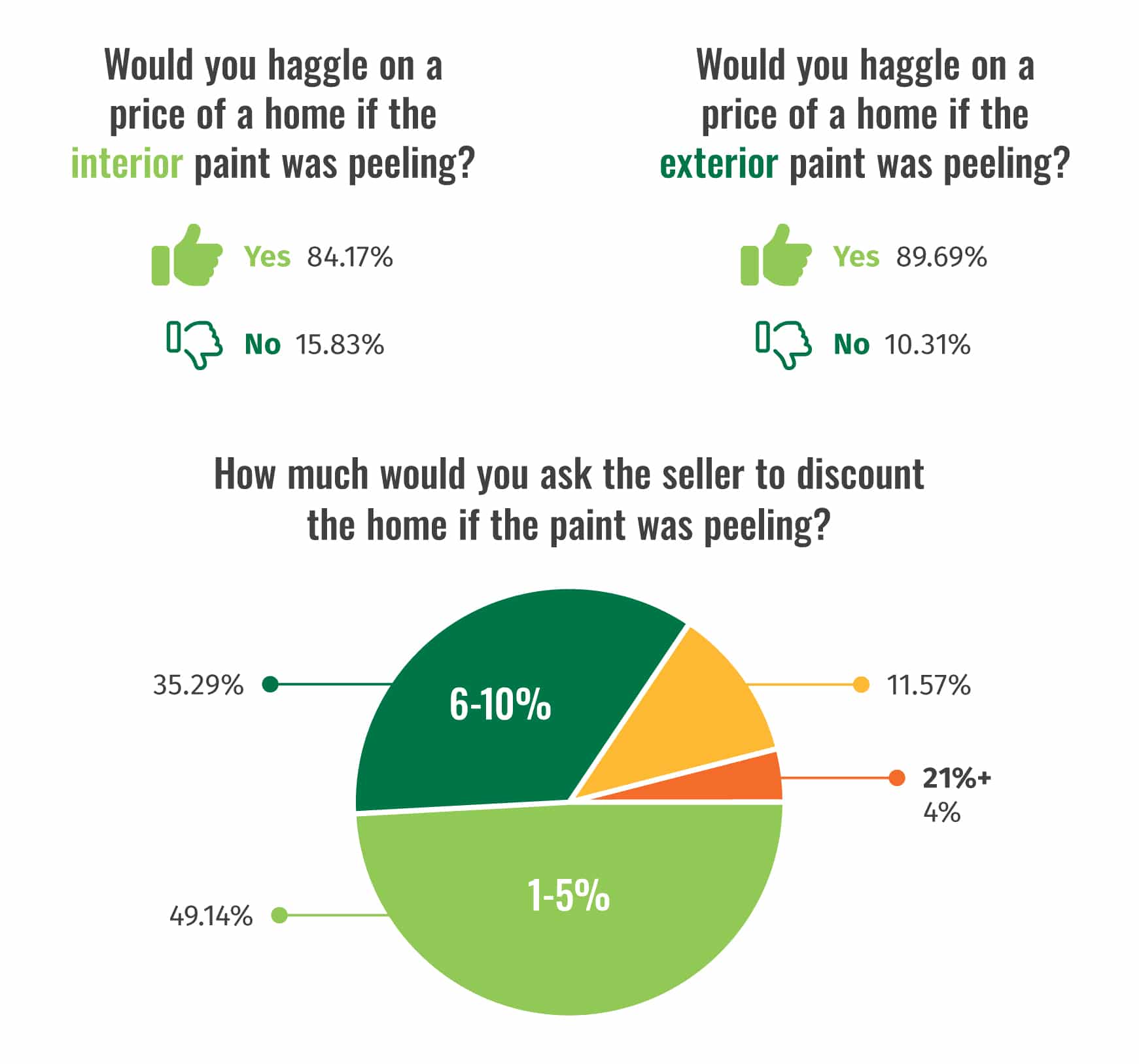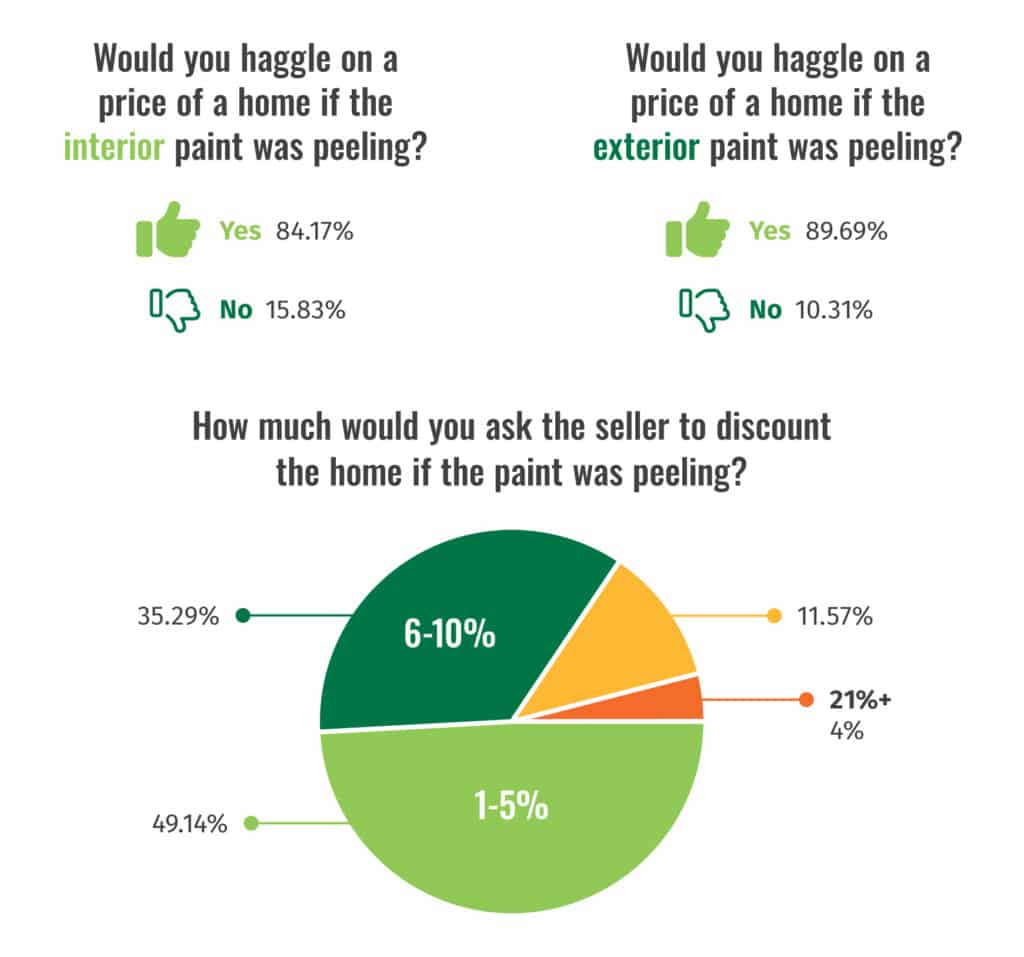 Alright, sellers — this one's for you. According to our findings, your buyers are very likely to haggle on the selling price if your paint is in bad shape. 84 percent will expect a discount if the interior paint is peeling and a whopping 89 percent will haggle over exterior paint.
Here's where we see some real numbers. Over 49 percent of people are going to request a 1–5 percent discount, and 35 percent will go for a 6–10 percent reduction on the home price over your peeling paint. 4% are going to call for a 21+ percent decrease on asking price.


First Impressions Matter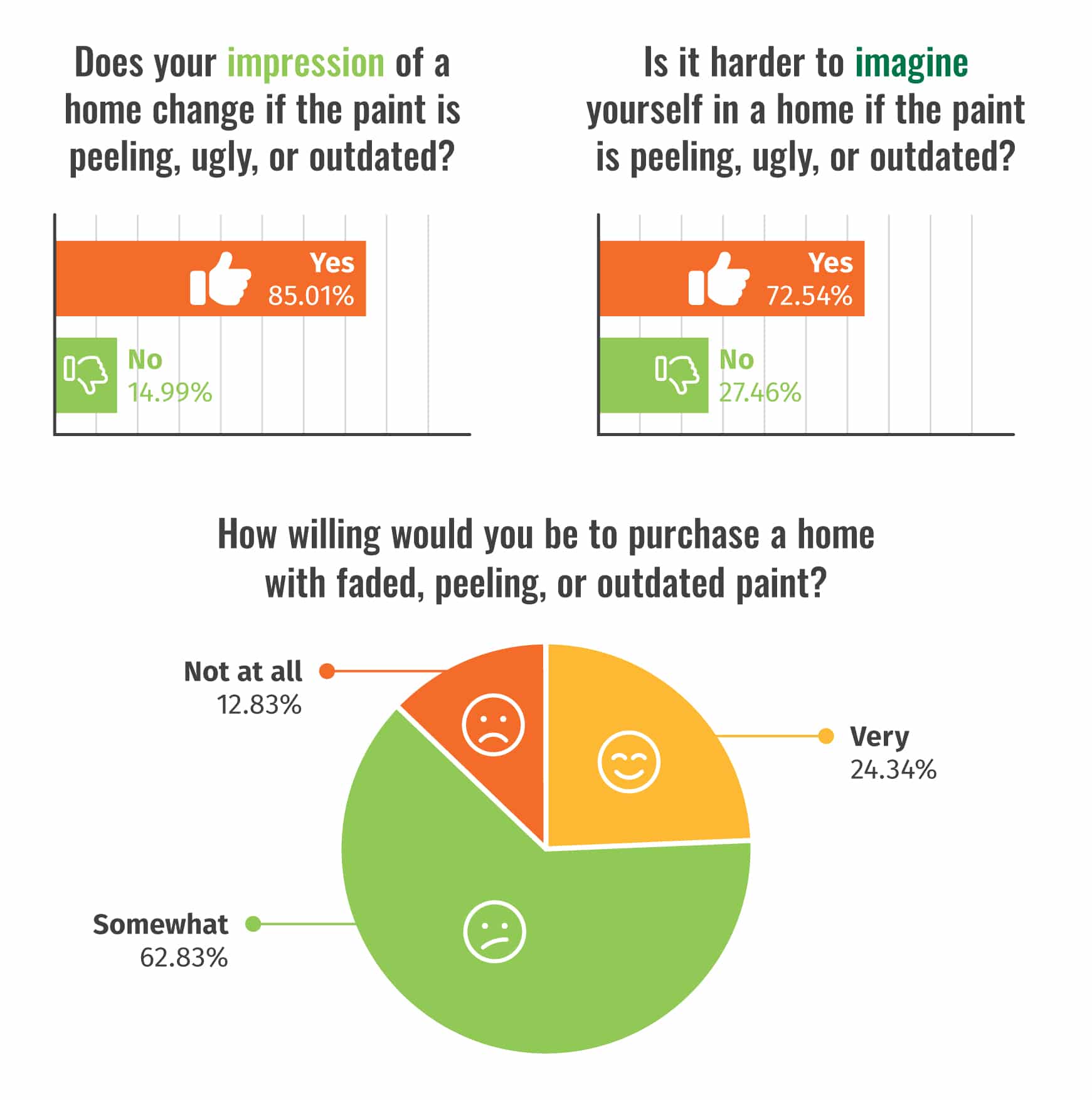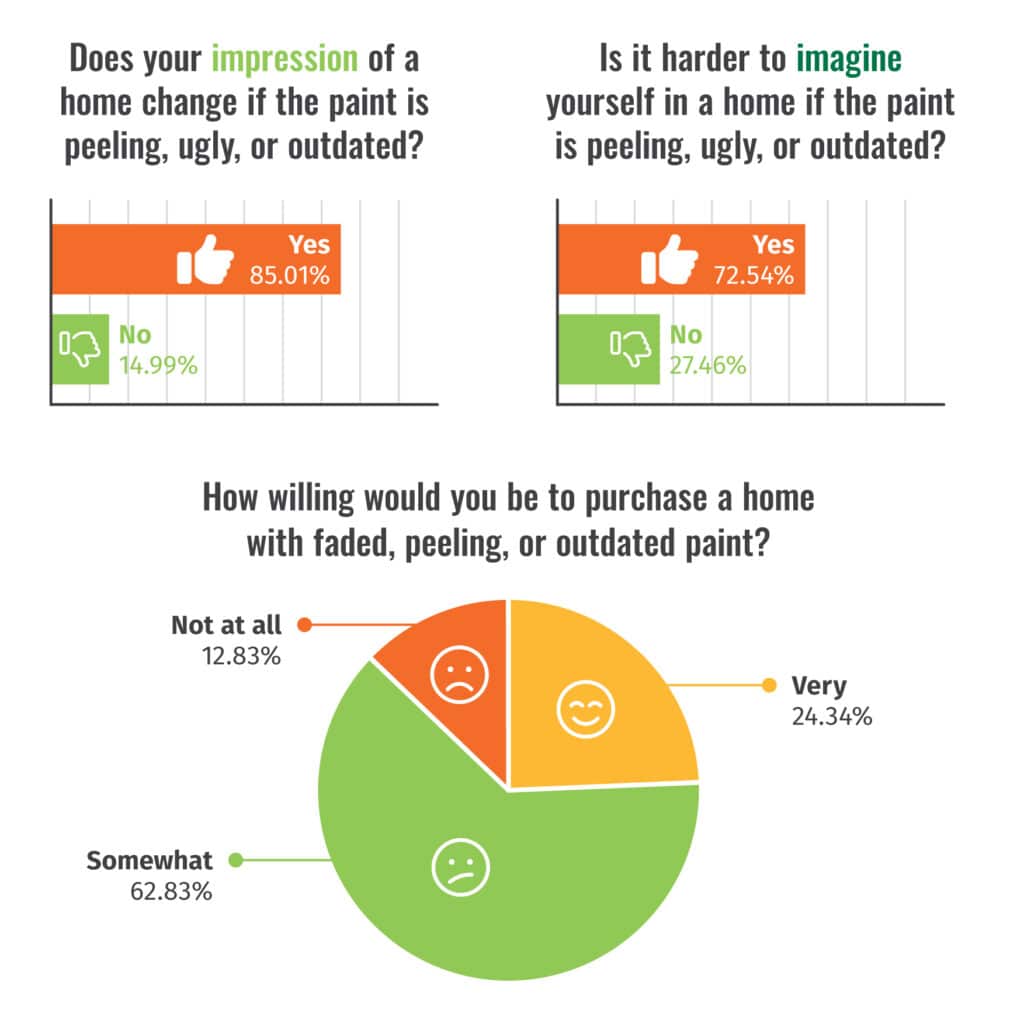 Every homebuyer has experienced the same phenomenon. You enter a space, take in the structure, and look at the price tag, but the real selling point is how the home makes you feel. This process of trying to imagine yourself in a home can actually be stronger than the pros and cons themselves. So, how does something as simple as a coat of paint influence a buyer's ability to let a home into their heart?
The answer is quite a lot. 85 percent of respondents said that their impression of a home is altered by ugly or outdated paint with only 14.9 percent saying they're able to look past the elephant in the room. Nearly 73 percent of respondents said something as simple as bad paint would make it hard to imagine their life in a home.
Sure, once the papers are signed, it's just a matter of buying a can of paint and a roller and getting to work on your new home. But it turns out a majority of buyers aren't thinking like that. When it comes to imagining living in a home, these factors really make an impression on someone looking to make one of the biggest financial decisions of their life.
Getting the Most Out of Your Sale
Buying or selling a home can be stressful, complicated, and time-consuming. Most homebuyers expect certain features in their investment and have proven to be willing to pay for those perks. In exchange for not having to renovate a home themselves, homebuyers are willing to increase their budget if it means securing a fresh coat of paint.
If these findings struck a chord, Paint Denver is here to give your home a facelift before your sale. From interior paint jobs to cabinetry and popcorn removal, our team of professional contractors are here for you. Visit us at Paint Denver to learn more!
Methodology and Limitations
The data were gathered by running a survey using Survey Monkey services. Of the respondents, 694 were female, and 644 were male. To qualify for this survey, respondents had to have bought a house in the past 7 years. 208 respondents were aged 18–29, 431 were aged 30–44, 392 were 45–60, and 308 were older than 60 years old. We received feedback for each region in America. The household income range of these respondents were between $100,000–$199,999. The survey data we are presenting is self-reported by respondents. Selective memory, telescoping, attribution, and exaggeration are some of the known issues with self-reported survey data.
Fair Use Statement
Want to help homeowners make the best investment possible when it comes to renovations? We'd love to see the results of this survey shared with your readers for any noncommercial use. Be a good neighbor and include a link back to this page in your story so that our team gets credit for their work too.