interior painting services
A new splash of color can immediately transform the look, feel, and value of any room in your home. From an accent wall to an entire home's interior, rest assured that Paint Denver has the experience and expertise to lend you a hand as your interior paint contractor.
What your neighbors are saying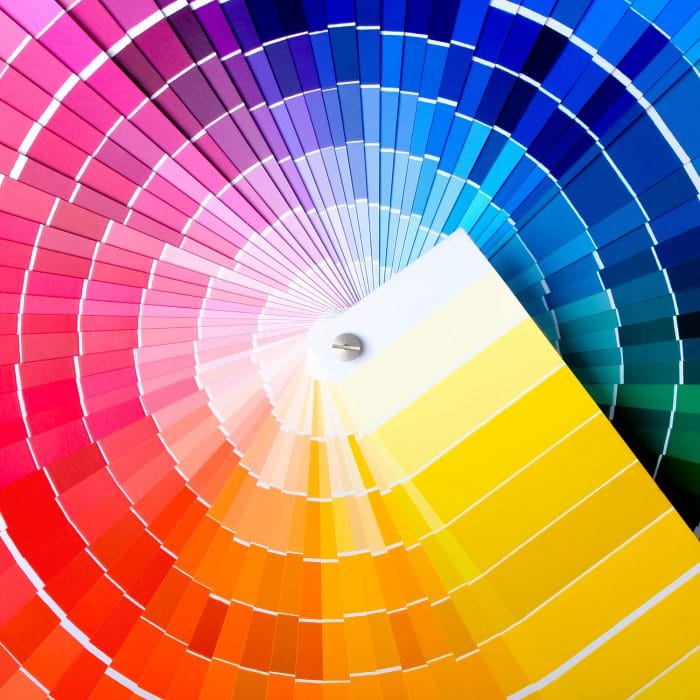 Color Consultation Services
Don't know what color to use? Ask us about our professional color consultation services!
Interior Painting Projects
Our interior painting process
INTERIOr painting preparation
1. Room Access Requirements
We go out of our way to ensure that every room we work on is done with a steady, efficient hand. While we do not need to access every room we're working on every day, some rooms may remain out of service overnight or longer. Our biggest interior painting tip is to come up with a quick guide for how you would like us to move about your home.
2. Unoccupied Areas
Areas that are not occupied, such as hallways, stairwells, powder rooms, and guest rooms, make great flex rooms! We can start painting these if we get ahead of ourselves and can work on them anytime with minimum disruption to you.
3. Paint Sensitivity
We use only low and zero VOC paints on interior paint projects because they are low odor and safer for your family than traditional paint. However, people with strong sensitivity to paint may still want to plan on sleeping in another room directly after their room is painted.
4. Rooms with Extensive Repairs
During our interior painting project, these rooms may be out of service longer than one or two days, depending on the drying time and clean up involved due to the repair products. There will also be a bit more dust created in the process of making the repairs.
5. Specialized Projects
Some specialized projects may require multiple visits to complete, which would mean these rooms may stay out of use for longer.
Interior Painting FAQs
How long does it take to paint a room?
It depends on the size of the room! Typically it takes about a day, depending on the size and what parts of the room we are painting.
How is my furniture protected?
Large pieces are moved to the center of the room and covered. If possible, we recommend removing as much furniture from the room as you can before the crews arrive.
Can I still live in my home when painting is being done?
Yes! You'll still be able to reside in your home throughout the entire process. Or you can go on vacation and trust we'll send you updated every step of the way!
I don't know what color to choose? Help!
There are a few options –

We can match paint to your existing colors! We have a tool that can capture the color or our foremen are well-versed in taking a small sample of your existing color and getting it matched.

We offer color consultation services! If you need guidance in what to choose, our friends over at Katieminds Design can help you out!

You can do a free download of ColorSnap Visualizer; an app from Sherwin Williams. It uses your camera to view an area (i.e. wall, ceiling, etc.), and you can then select any color to see what that area would look like!

You can go to your local Sherwin Williams store and ask for a "draw-down"; it is 8.5 x 11 paint swatch.
How much does interior painting cost?
The cost of an interior painting project is completely dependent on the scope of the job. Each home varies in square footage, type of material, prep work needed, product needed, and conditions. Contact us for a free virtual or in-person quote for your space!
 Can you adjust the price of the proposal? The project wrapped up faster than anticipated.
Unfortunately, we cannot adjust the price once the final quote is given. Our quotes are based on the job, not the time it takes to complete.
Do you recommend hiring professional cleaners before or after you paint?
We always recommend cleaners to come after us! Our crews clean up after every job to leave the home in the same way it was found, but sometimes there is inevitable dust/debris that would be best suited for a cleaning company to address.
What brand of paint do you use? Can I choose any color?
We typically use Sherwin Williams, but also use Benjamin Moore and Behr as well as some others. Note that both companies are great in matching other brands' colors if you happen to come across an HGTV, Martha Stewart, Glidden, etc. color you love.
Do you require me to do any prep before painting?
Yes! Paint Denver will send you an interior prep sheet prior to starting your project. We ask you to remove any and all items on the surfaces we are painting (i.e. remove pictures, clocks, paintings, etc. from walls), as well as any items that are of value or sentimental. We also ask you to move furniture towards the middle of the room or can help with this if needed. We would be happy to help move the larger items away from walls as needed.
What areas do you service?
Arvada
Aurora
Boulder
Brighton
Broomfield
Castle Rock
Centennial
Central Park
Cherry Hills
Denver
Englewood
Golden
Greenwood Village
The Highlands
Highlands Ranch
Lakewood
Littleton
Lowry
Parker
Stapleton
Westminster
Wheat Ridge
Do you work weekends?
Most of our crews work Saturday, but do not work Sundays unless absolutely necessary. We are more than happy to work around your schedule, but do ask you to work and be flexible with Paint Denver as well.
Do I need to buy the paint? Can I use the paint I have?
Nope! Paint Denver will take care of purchasing all materials for your paint project.
If you have paint onsite, we will ask you to send a picture, and ask how long you have had it and where it has been stored in order to determine if we can use it.
Are your crews subcontractors? Who are they? How do I know I can trust you?
Yes! All of our crews are subcontractors; this is our business model as it benefits all parties. Note that 75% of our crews have been with us for over 5 years! Some 8 years or more, and a few have been with us since we opened our doors. We love our foremen and crews – they are detailed, fast, hard-working, trustworthy, and take pride in their work.
How far are you booked out?
Summers are our busiest season as we are painting both interiors and exteriors, while Winter months are a little slower. We are typically booked 4-5 weeks out, but can fluctuate due to weather and project delays. We try our best to work with tighter timelines when possible. Call us to find out if we can meet your project timeline!
Are there chemicals in the paint? Will my house smell throughout the process?
Barely! We are lucky enough to live in the state of Colorado where a bill was passed in 2020 mandating all paint products to have little to no VOC (volatile organic compounds). What does this mean? It means it doesn't smell like it used to because they are water based and no longer contain lead. The "paint smell" is typically gone within a day.
What sheen/gloss should I be using?
Depends on your preference of how much reflectance you want, and/or the amount of traffic that will be touching the area(s) you are painting. Typically we recommend using FLAT for ceilings, EGGSHELL for walls, and SEMIGLOSS for trim/doors. This mix looks best AND is durable.
Where are you located? Can I buy paint from you?
Our offices are located behind Broncos Stadium at the corner of Colfax and Federal.  
We do NOT sell any paint products.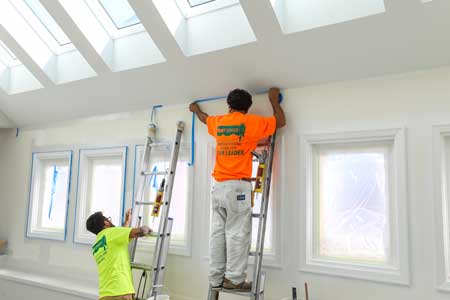 denver interior painter
the paint denver difference
Painting the inside of your home can be stressful. Our team makes the interior painting process as smooth and easy as possible, every step of the way. From proposal, to prep work, to post project clean up – with Paint Denver, your home is in the hands of the best of the best Denver interior painters.
Ready to Get Started?
Ready to transform your home or business? Paint Denver is more than happy to help! Please provide your information below and one of our team members will contact you shortly.