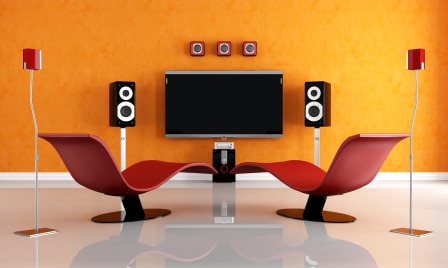 When the sad state of your walls starts to wear on you, freshening up your space with a new coat of paint can not only spruce up your living space; it can also add value to your home. Before you can start your painting project, you have to choose a paint color that complements your personal style, the function of the room and the décor of the rest of your house. Though no paint job is permanent, you will save yourself a lot of time and money if you are able to pick the perfect color the first time around during your interior painting project.
Get inspired. Grab an empty binder and start creating inspiration collages. Scan through old magazines and pull images that draw you in, even if they aren't pictures of rooms. After you have a sizable collection, review your images to see if there are any patterns that may reveal your perfect interior paint color. Perhaps you collected images of sweeping blue skies and oceans, or images of lush green forests and rich suede boots; either of these collages might point you in the direction of a blue scheme or an earth-tone space.
Consider style and function. Even if you fall in love with bright orange, it might not be the best fit for your newborn's nursery or your relaxing bedroom retreat. When looking for the perfect interior paint color, try to spend time in rooms of your house that make you feel comfortable; you may even investigate the rooms in your friends' houses. Try to notice any consistencies in color in the rooms your want to spend more time in.
Take your ideas to an expert. The professionals at a painting company spend hours upon hours discussing colors and designing color pallets for customers. Once you have a general idea about what you want your room to look like, pick up some samples at a paint store, or go through the painting company's charts and ask for input. Painting experts can tell you the colors that make rooms feel small (dark, saturated colors) or large (light neutrals), or the colors that stimulate (yellows and oranges) or subdue (blues and light greens).
Test it out.  If you finally decide on a basic color or color family, select several chips or samples in a variety of shades (darker) or tones (lighter). Don't trust the look of the chip; see them in the light of the room you'll be painting.  Your painting expert may even be willing to add several colors to a room in small proportions at a very minimal cost; apply a coat or two to a small part of a wall and check it out in the morning to see if it's perfect for your wall color.
Be true to yourself. Color and style experts are up-to-date on the latest trends: monochromatic modern rooms in grays and whites, bold accent walls in jewel tones, or earth-tone rooms in browns and greens.  You don't have to be a slave to the experts; if you are in love with the idea of a sapphire room with a bold orange accent stripe, commit and try it out. If you are feeling adventurous, go ahead and test something out. Remember, a new color is just a paint roller away.