Whether you are completely remodeling your kitchen, or just making a few changes to give it a fresh new look, a coat of paint can go a long way in making your kitchen say WOW.
While certain things can make your kitchen more functional – upgrading to a gas stove, or adding two ovens instead of one – the overall style is what will make your home inviting to all that enter. Do you prefer a modern, minimalist look? Or is a contemporary style more in line with your tastes?
Your style dictates your final selections, and it can also help you when choosing your final colors and décor. Country kitchens will lead you down one path, while a traditional kitchen path will lead you down a different one.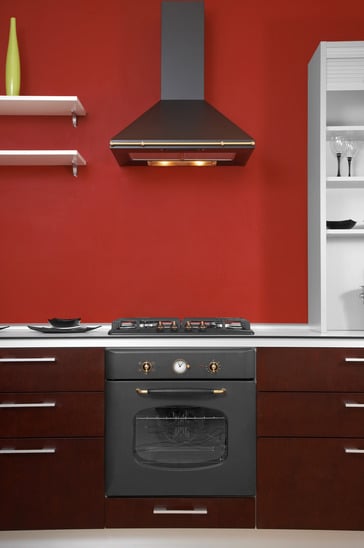 Country kitchens have a focus on rustic and vintage. They have a comfortable lived in look that is warm and inviting to all that enter. They have a hand made feel that showcases your style and your history. They cater to natural beauty, with touches of color throughout. Country kitchens work well with warm, soft colors throughout. Don't be afraid to paint the cabinets or wood furniture light colors – greens, yellows and blues – to give it even more charm.
A traditional kitchen provides a sense of comfort and nostalgia. It's a classic design that you'll find from one generation to the next, from old homes to sophisticated renovations. Traditional often means symmetry, uniformity and a sense of tranquility. Calm colors in all shades of white and pastels work well to leave the room feeling light and airy.
Contemporary kitchens provide a clean, linear look and feel with slight impacts from the traditional line. You may see wood cabinets with chrome vents and appliances. You'll also find neutral paints with darker toned accents to pop color into the room to provide a rich and elegant effect. Walls may be kept whites or pastels with accents in the backsplash tiles. Or one focus wall may be painted a deep, jewel toned red with the rest of the kitchen a soft eggshell white.
Modern kitchens take clean and linear designs to the max. Its easy to find sleek, grey toned cabinets and appliances offset with a bold colored wall. Décor and "extras" may be kept at a minimum to put the accent on the brightly colored accent wall. While primary and bold color choices work well, don't overwhelm the visual senses by going crazy with the color. Use it sparingly – like the wall behind glass cabinets, or the backsplash area – and give your room depth.