Painting Ideas For Kids Rooms
Want a project for the summer that will add new life to your kids' rooms? Why not try a simple redecorating project you can both get involved in. Here are some painting ideas for kids rooms.
There are many times in a child's life when they are ready for a change. A new nursery. Toddler days. When they head from preschool to school. When they head into their tween years. As they enter teenage years. And again when they head into high school.
Each step is a major change. And each step is the perfect opportunity for updating their rooms.
In some cases a full remodel may be in order. A tween no longer needs the small toddler bed they've used for many years.
In other cases, even something as simple as a paint job and a few new decorations can go a long way.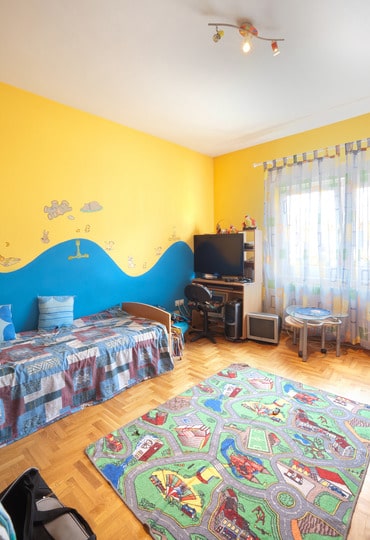 The key is to start with a core foundation that you can use over and over again – a high quality bed and a functional dresser, for instance. Then use color and accessories to change things around and give your child the uniqueness she thrives for every step of the way.
First, define your expectations. What purpose does your child's room serve? Will she use her room exclusively from studying and sleeping? Or will it also house her toys, and provide inspiration throughout the day?
The color and the accessories should blend in with its purpose. Studying and sleeping might lead you to choose quieter tones and more neutral shades in the color spectrum. Inspiration and play time colors may allow things to be more vibrant.
Remember, pink for girls and blue for boys is so traditional. Instead, start with a vibrant color palette that will allow you to change things up with a change of a curtain or a simple accent stripe.
Let your kids be the unique individuals they are. It's easy with a simple coat of paint.