How To Hire A Professional House Painting Company
Now more than ever, homeowners are taking on huge home projects on their own. Though some DIY projects can save some time and money, others projects have more benefit by hiring a pro. Interested in learning how to hire a professional house painting company to get the job done right the first time?
If painting the exterior of your home is on your list this summer, should you attempt to do it yourself? Or should you hire a professional? While it may seem like an "easy" task to take on, ask yourself a few questions first.
Do you have the time to complete the project? It may take anywhere from a few weekends to the entire summer, depending on weather and the size of your home.
Do you have the right tools? It takes more than a can of paint and a roller. Tarps, ladders, rollers and brushes – there are many things you'll need (and have to buy) to do a decent job.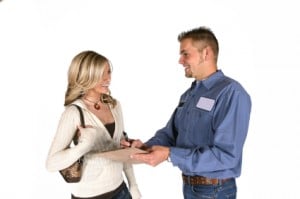 Already getting a headache thinking about all there is to do? By hiring a professional, the job will be complete in just a few days – not weeks or months.
Before you hire a professional house painting company, here are some tips about finding the best company for the job.
Pool your resources. Ask around the neighborhood for references and referrals. Call friends or relatives who have recently had their house painted. Don't feel obligated to utilize someone's referral; what was right for one person may not be right for you.
Ask the professionals. Once you've narrowed your search down to a few reputable companies, do a little research. Look up the company through the Better Business Bureau or read reviews on a website to get an idea of the company's business record. If you see any red flags like a complaint file or largely negative reviews, move on to another company. If you want to hire a professional house painting company, don't be overly concerned with one bad review – everyone has disagreements from time to time. But don't discount multiple bad reviews.
Meet in person. If you settle on a few house painting companies, ask to meet the owner in person for an estimate. Usually the contractor will agree to meet you at your home to evaluate the scope of the work and provide an accurate estimate. If a contractor gives you a hard time about meeting or providing an estimate, keep searching; it may be a sign of poor business practices.
Get it in writing. Never allow a contractor to start a job without a clear written estimate in your possession. A professional painting company will be willing to provide you with a written estimate that clearly outlines the scope of the work, estimate materials cost, estimated labor cost and time line for completing the job. If changes come up during the job, have it added to the contract.
Set a start date. Once you have your written contract, arrange to be home on the start date of the project. Not only will it ensure the project will start on time, but you can provide any additional information of material the painters might need that would otherwise delay the project.