How To Hire A Painting Contractor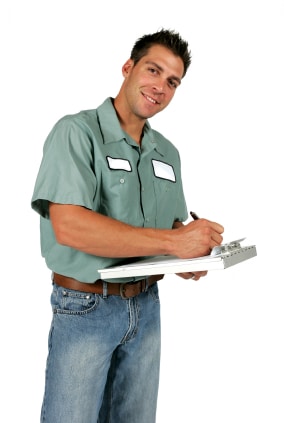 You are excited about redoing your room. A new color will be the perfect way to breathe new life into it. Now all you need is to hire a painting contractor to do the job.
The final look is the goal. But finding the company to do the job can be difficult at best. Not every business is set up in a professional way. Trust a fly-by-night operation, and you may find one of the worst paint jobs you've ever experienced. And you'll be repainting in not time at all – no fun when you expect your new room to last for awhile.
How do you go about finding a great painting contractor? Give these simple guidelines a try.
Hiring A Painting Contractor Presents Proof Of Insurance
What happens if your property is damaged during the process? What happens if bodily injury occurs? A Great Painting Contractor is in business for the long haul, and will be covered in the event anything happens while on the job. Ask about the type of coverage the company has – its for your protection as well as theirs.
A Great Painting Contractor Offers Written Warranties
A smile and a handshake may have worked in years gone by. But in today's world, getting it in writing is more important than ever. A Great Painting Contractor will offer written guidance for the job at hand. There are two types of warranties in play – a labor and a material warranty. Labor warranties cover the quality of work performed, material warranties ensure the product they are using will withstand the test of time. Make sure you understand the nuances of each before you sign on the dotted line.
A Great Painting Contractor Offers Customer Service
What does a Great Painting Contractor do? If you said "paint", that's only a part of the professional service. How about power washing your home to get it clean and ready for painting? How about fixing loose and broken boards, and preparing the surface so you'll receive a quality job? How about color matching services to provide you with the paint you've fallen in love with in years gone by? Or how about a color consultation to help you select the right color for your room? Painting is only a part of the job – if that's all a company has to offer, find a more professional painting contractor.
A Great Painting Contractor Gives Professional Quotes
A Great Painting Contractor will give you a detailed, professional quote that covers all aspects of the job. If you see one line, one charge, question the validity of the quote. A Great Painting Contractor will show you how much all aspects of the job will cost, from power washing, to caulking, to wood repair, to touch up work. If a business doesn't appear professional at this critical point, it may be because they aren't. Many painting companies start up in the summer hoping to make a little extra cash during the busy season. Only a professional will operate it throughout the year in a professional manner.
A Great Painting Contractor Can Provide References
The proof of a great painting contractor is in his final product. Can you drive around your neighborhood and see the work he's completed? Can he offer a variety of references that show you his longevity in the field and how busy he is during the year? Check his website, look at online reference sites like Yelp, and ask for personal references face to face. The more you see, the more you'll know you've found the perfect painting
for your job.