Finding the Right White – Greenwood Village Interior Painting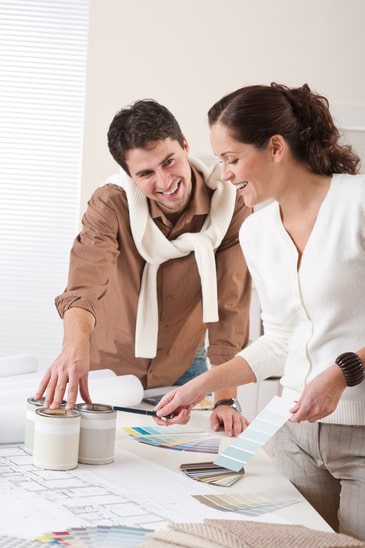 When it comes to Greenwood Village interior painting, it seems like white would be the easiest and simplest color, right?
There are many homeowners who decide to paint their interior white, but then they get overwhelmed by the numerous shades of white that are available. The right white shade depends on lighting, furnishings and woodwork. You don't want your home looking like a hospital hallway, so how do you go about picking the right shade of white when it comes to painting your interior? Consider the following tips to ensure you find the right shade when tackling your next Greenwood Village interior painting project.
Natural Light Impacts Paint Choice
Pure whites work best in rooms with lots of natural light because they reflect light more than any other shade. Be sure to take samples and see how they appear in different times of the day. Rooms without a lot of light look good with soft and red-tinted shades of white. These are just general rules of thumb for your next Greenwood Village interior painting project.
Modern v. Traditional Interior Design
If your home has a more modern feel to it, it probably has lots of natural light and windows to let the sunshine flow inside. Cooler whites with a blue tint look best in contemporary homes. Older, more traditional homes tend to have less natural light. Whites with yellow tones or reddish hints and cream-colored whites create a warm feel in an enclosed space.
Consider Interior Accents
You should take the elements of the room into consideration as well as its architecture. Bright room accents look best with pure white. If the room has earth-toned accents, consider a white with a reddish tint. Pure white walls also highlight interesting architecture beautifully. Natural wood accents and wood furniture look lovely with a white that has a red or creamy tint.
White Paint for the Bedroom
Your bedroom should be a relaxing retreat, so don't choose pure white in order to avoid an anxious feel. A cool, creamy white works well in bedrooms to create the perfect haven.
White has always been a popular paint color choice with homeowners for many years. White is fresh, versatile and always in style. The key is to pick the right shade of white by browsing through color cards to see what complements your taste and intentions for a room. Try samples and see what they look like in all lighting. The perfect shade of white can make all the difference in a bright, cheery room or a relaxing retreat!
Greenwood Village Interior Painting
Having trouble finding the right shade? Need help choosing a what type of finish you want? Just generally don't have time to tackle interior painting projects yourself? No worries. The team at Paint Denver is your most trusted local Greenwood Village painting company with over a decade of professional interior and exterior painting experience. We're here to make the home improvement process a breeze.