Applying Pantone's Colors of the Year to Your Home Exterior
For over 20 years, Pantone's Color of the Year has influenced product development and purchasing decisions in multiple industries. Everything from fashion to industrial design takes inspiration from these shades. This year, Pantone decided that 2021 deserved not one, but two colors.
At Paint Denver, we're always looking for fun and innovative styles and shades to keep our work up to date. These exciting colors are perfect shades to incorporate into an upcoming exterior home painting job.
Illuminating
Warming and optimistic, Pantone's Illuminating is reminiscent of strength and positivity. It is a color that encapsulates the promise of something sunny and friendly.
If you have dreams of tackling an exterior home painting job in the spring, this color will look beautiful in any Denver metro neighborhood. While yellow is often seen as a bold color choice for the exterior of a home, it can act as a stylish and exciting accent that brings a cheery feeling to your home's aesthetic. Try using it on a front door or trim for an extra pop of sunny color!
Ultimate Gray
Gray has been a cornerstone color in interior and exterior style for year now. Practical and rock solid, this gray shade works in tandem to add sophistication and depth to its yellow counterpart.
Ultimate Gray inspires thoughts of solid and dependable natural elements which are everlasting. The colors of pebbles on the beach and natural elements whose weathered appearance highlights an ability to stand the test of time, this shade assures encouraging feelings of composure, steadiness, and resilience.
Using Pantone's Colors of the Year in Your Exterior Home Painting Job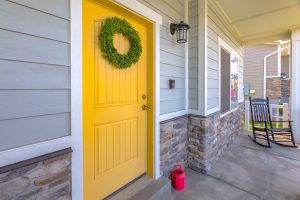 When it comes to bringing these colors to your home, we suggest using Illuminating as an exterior accent. Painting a front door in bright yellow will convey a warm and welcoming feeling. Support this bold choice with the solid and dependable Ultimate Gray as the main exterior shade.
The two independent colors highlight how different elements come together to support one another – a message we love here at Paint Denver.
Your Denver Painting Service
We'd love to help you transform the exterior of your home. Whether you're interested in applying these transitional shades to your own home, or have another idea in mind, we want to help. Give us a call or request a quote to get started.