House Painting Color Trends for 2018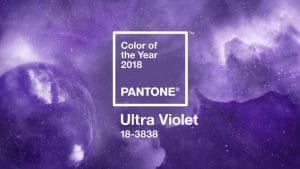 Every year The Pantone Color Institute, which helps designers and other industry professionals select color for designs, chooses a color that represents current trends in the world of design and serves as an expression of what's needed in our world today. So, what's the color of the year for 2018 you ask? That would be Ultra Violet, an eye-catching purple-highlighter shade. 
With 2018 right around the corner, we take a look at ways this color might be applied in decorating and painting interior or exterior spaces of your house. 
Choosing the Right Paint Color
Choosing the right color can accomplish a lot. It can give a living room a sophisticated look, energize a kitchen space like a ray of sunshine, or make a small room feel more spacious. But the task of finding that perfect shade can be anything but simple. This description of the use of Ultra Violet in home décor might be a good starting point to determine if this year's special shade belongs in your next home design project.
In interiors, Ultra Violet can transform a room into one of extraordinary self-expression, or conversely its polish can tone down a room with subdued, modern pairings. In hospitality, we are seeing purples like Ultra Violet take center stage in interior spaces as large and small hotels harness color and design to entice travelers and stay relevant.
House Painting Ideas Using 2018's Hottest Color
Pantone has created eight different color palettes to showcase Ultra Violet – each with its own distinctive feeling and mood. Check them out below along with a few thoughts on what spaces in the home these color combinations might be used in and other house painting design ideas.

Embodying calmness, a palette of hazy and smoky hues effortlessly commingle to create subtle blends and harmonies that are both timeless and time-honored.
Stressed? Can't sleep? Experiment with adding these shades to the bedroom or living room to set a more relaxing and calming mood. Shades of blue, green, and purple have been shown to reduce stress and anxiety. Painting a wall with these colors can help a room seem more expansive, so they make a great choice for small bedrooms too.

Sitting side by side on the color wheel, this palette of like-minded hues with their spirited good humor and playful exuberance makes for easy and engaging color mixes.
Purple has a long reputation of portraying royalty and power. Recolor your walls or accent your bathroom with these purples for a more luxurious touch. 

An unusual combination of show-stopping saturated color with rich and elegant earth tones creates an adventurous mood full of excitement and drama.
Great for the living room or social areas, use these energetic colors to evoke enthusiasm and stimulate conversation. The green and brown shades could also be used in the home office to motivate concentration and focus. 

Invoking a sense of mystery, a palette of nature's blues and greens, combined with the unconventional Ultra Violet and a Silver and Pale Gold metallic, exudes a quiet strength.
This color scheme is reminiscent of peacock feathers and might be used to connect the living room to kitchen for a seamless look. 

Soft and warm, a subtle palette of natural and organic shades accented by a Frosted Almond metallic evokes reassurance and conveys a sense of calm and quiet.
The living room is a popular place to use these soft earthy tones to compliment natural colors of the floor or wood furniture. 

Exploding with zest and energy, this palette of pure, unadulterated color which screams "look at me" comes together to create a bold statement with feelings of excitement and high voltage effects.
You might use these oranges, yellows and pinks to punch up cabinetry in a kitchen that gets plenty of sunlight. 

Emulating a desert sunset, this is a dramatic palette of brilliantly heightened warm shades that radiate resplendently across the early evening sky.
While yellow is typically the happiest color in the spectrum and often used to stimulate excitement, these soft yellows are soothing and relaxing, making them a good fit for the bedroom or other spaces where you want to relax.

Inspired by the colors we see in our surroundings, a combination of soft and sweet pastels with an enchanting Ultra Violet and a deep, dark navy Astral Aura conjures up a summer garden in full bloom.
These pastels might make for a great exterior paint color scheme to achieve a beach house look.
Happy House Painting and Home Design in 2018
We encourage you to explore other ways to incorporate 2018's color of the year into your color schemes and design choices. And if you are in the area and looking for the best house painting in Denver for your next project, please don't hesitate to give us a call.