What is one of the easiest rooms in your home to update and give it a fresh new look? Your bathroom. With just a little bit of work (and sometimes just a little bit of expense as well), you can move your bath from ho-hum to WOW in no time. Don't worry about doing a complete renovation from floor to ceiling; instead, focus in on changing it to a modern, sophisticated color and a fresh coat of paint.
Step 1: Choose Your Color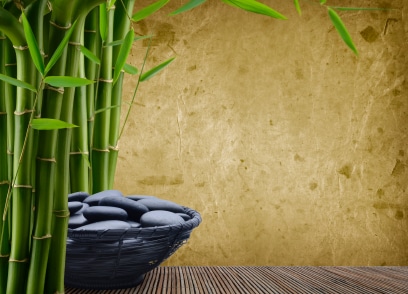 Start with the color. Many people end up repainting in white over and over again because they don't know what color to choose. While you should choose a shade that complements other rooms and décor throughout your home, remember nothing makes a bigger impact than the right color. If you've been afraid to use color before, the bathroom may be the place to start. Its small enough it can introduce you to color without overwhelming you on big walls and big spaces.
Light or neutral colors make things look larger while darker colors have the opposite effect. Warm shades make rooms seem intimate and inviting, while coll colors create a sense of rest and relaxation.
If you're unsure of the color that's right for you, visit your local home stores and browse through their bathroom accessories. This will show you today's "in" colors, and give you a sense of the accessories you can use to complement your new wall color. You may find a new shower curtain with the perfect shade of blue – and give your painting contractor an easy time of matching colors.
Dig Deeper – Do You Really Need To Use Bathroom Paint?
Step 2: Reduce Clutter
The bathroom is always a catch-all for all kinds of home supplies. Before you update, reduce all you can. The pictures that have been bugging you for months, the extra medicines you haven't opened in months, the extra towels that have been shoved to the back of your linen closet – if you haven't used it, get rid of it. This will give you more space to focus in on making it function better for you.
When you head out on your shopping spree, look at the space-saving items. You'll be amazed at the highly functional items on the market today that can create a sense of organization, even when you have a lot of stuff you need to store.
Step 3: Prepare The Room
The day before your painter is scheduled to arrive, pull everything out of your bathroom.
Will you be replacing vanities and toilets? Make sure they are all replaced before painting. Some space saver appliances may change shape or size – the last thing you want is a mark of old paint because a new fixture changes position.
Also pull out linen closet items, medicine cabinet contents, towel bars down – make sure every inch of your bath gets a fresh coat of paint.
Step 4: Trim
Remember, trim work is just as important as your walls. Make sure the trim around your walls, doors and windows are painted as well. Work with your painter before hand to choose the perfect color to match the new color on your walls.
So you want to add new trim board? Now is the time. Many people like changing things up with chair rails, wainscoting, or crown molding. Add it before you paint, and your new addition will stand out with a coat of paint.
Step 5: Enjoy
The best part of a hiring a professional painter is you get the results without the mess. In a short period of time, your bath will be ready for final decoration. Add your finishing touches … and enjoy.
Contact us about your Denver Interior House Painting ideas today.