The staircase is a great architectural element of many homes, and it is also the first thing that many visitors see. For this reason, homeowners want their staircase to look its best.
If your staircase has a lot of foot traffic, it probably has a tendency to look dull or dirty very quickly. Painting the staircase can really brighten the entire area, so it pays to take the time to paint it correctly.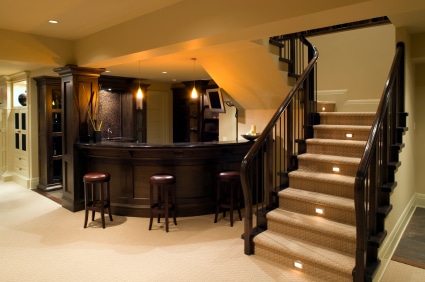 Unfortunately, the staircase is a very awkward spot to paint. It can also be quite dangerous. Here are some tips for painting a staircase in your home:
Choose your color. The color scheme you pick is very important in determining the ease with which you complete your stairwell painting. If you paint the walls on each side that run up to the ceiling the same color as the ceiling, you will eliminate the need to get as close as possible to the ceiling/wall join for cutting-in.
Use extension poles. If you want to be safe while painting your staircase, extension poles are necessary. To paint where the wall and ceiling join, use a paint brush that is tied to an extension pole. You can attach rollers to the poles to paint the remainder of the walls and ceiling.
Protect surfaces. Like any paint job, it is essential that you protect the surfaces you are not painting while you are working on your staircase. You can use drop cloths, plastic film, and masking tape to protect the elements of your home such as the trim and banister rails.
Make use of ladders. You will more than likely have to elevate yourself above the stairwell in order to paint the walls a different color than the ceiling. Any piece of equipment must be secured into position.