They loved the house … until they walked into the "orange" room. From that point forward it became the "orange" house – and the house they wouldn't buy because of the awful color.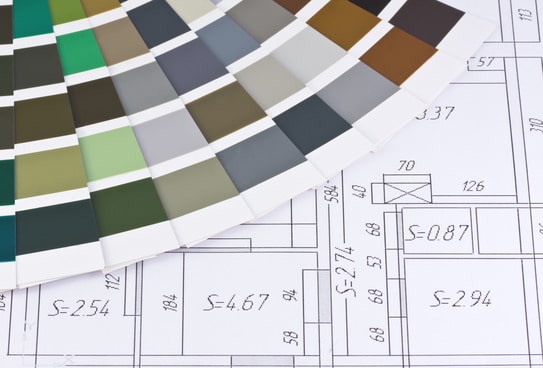 We all hear stories of the house that sat on the market too long because of the pain color. It happens. But just like home staging is an ever-growing trend in real estate, so is staging with paint color.
Paint color should soothe a potential buyer, making them focus in on the house itself – not the color. With a little thought – and a little paint – you can soon have potential buyers loving your home for what it has to offer. Here are a few basic rules.
Exterior Colors
In many cases, exterior paint colors are dictated by what the homeowners association will allow. If you don't have an HOA that controls house color, spend some time walking around your neighborhood before you decide on a paint color. In general, paint colors should stick with earth tones – tones that match the surrounding areas. Find a home close in size and style that you like and match your paint choices with theirs. You should also take into account the roof color, stonework, bricks and other elements of the home as you are choosing paint colors. In some cases, you can look to your landscaping as well, especially if you have retaining walls or landscaping stone that is clearly visible from the street view.
Living Room Colors
One of the largest and most used rooms in your home are the living areas. The key to great living room colors is to combine neutrality and warmth. Warm colors will provide character and personality, without the dull and boring that comes with standard white. Remember, most potential buyers want a move-in ready home as much as possible. Yes, they know they can paint, but why do it if they really don't have to. The "perfect" paint will allow them to tick one more box in your favor. Good neutral colors feature creamy whites, muted beiges and light gray tones. You can also incorporate current trends into your styles – muted shades of blues and greens are always trending, and make great complements to just about any décor.
Kitchen Colors
Kitchens by nature are bright and cheery. Most buyers want open and bright when it comes to kitchen design. After all, this is where the family gathers every day for homework, talking, sharing and cooking. How do you put the finishing touches on a great meal if you can't see what you're working on? Light colors help add brightness – try yellow, light olive, or warm beiges.
Bedroom Colors
Bedrooms are designed for relaxation. Because they aren't areas typically accessible to guests – minus the guest bedroom – mild and less trendy colors are acceptable. Keep things mild and soft – eggshell white, beige, light grays, light yellows and light greens are always a good choice.
Bathroom Colors
Bathrooms are relatively small spaces – bold colors can darken the space, giving it an even smaller appearance. And because potential home buyers value space, keeping things large and airy is always important. In the bathroom, stay away from dark colors – deep hues in reds, browns, yellows or blues will make a wall close in on anyone who enters. Instead, stick with warm whites, and accents with color décor instead.