If you have ever considered selling your home, you know there are a few crucial areas that can make or break the deal with any potential buyer.  The kitchen and the master bedroom are crucial, but just after these rooms, the buyer considers the bathrooms.
If you have an old, dingy, difficult to clean tub; you may be considering replacement.  Before you go out and buy a new tub, you might want to consider the benefits of bathtub refinishing rather than replacement.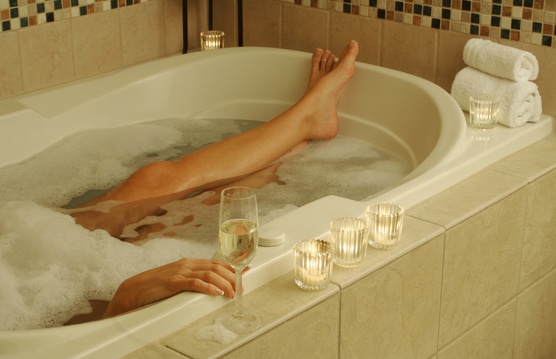 1. Refinishing your tub is much less complicated than replacing.  Replacing a tub can lead to a total bathroom makeover if you are not careful.  If the new tub has different dimensions then the last tub, you will have to do some patch up work to make up for the difference.   Before you know it, a "simple" task has elevated in complication and cost.  Refinishing a tub produces drastically fewer variables to consider and/or deal with.
2. Refinishing costs much less than replacing.  Unless you have construction experience, you will likely need a contractor to help you tear out the old and put in the new.  In addition to the cost of labor, there is also the cost of disposal.  City pickups are highly unlikely to pick up your old tub, so you will need to take it to the local landfill yourself.  Another cost you might face is permit payments.  Many counties require permits for most bathroom remodeling projects, including replacing your tub.  Refinishing costs are limited to supplies and labor.
3. Refinishing costs have a much shorter timetable than replacing.  Since there are so many details to consider in replacing your tub, you may find yourself unable to use it for up to 10 days.  Refinishing will typically need 24 hours for work and curing before your tub is ready to use again.