Some home projects feel like more of a DIY task. And in many cases, painting is one of those projects. After all, it can't be that hard, can it? With a bucket of paint and a brush in hand, you can easily do it yourself. Plus its cheaper too, right?
What these DIY homeowners don't realize is that painting is a project that is both technical and time consuming, and in some cases a lot of hard work.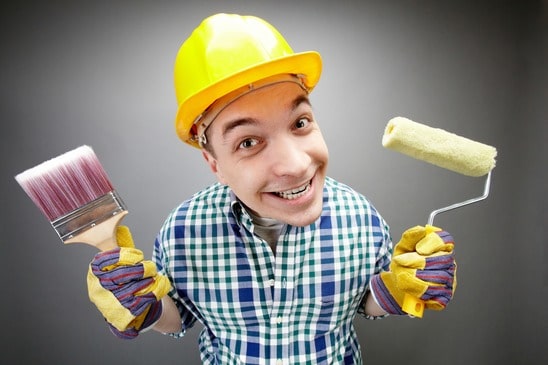 There are a number of problems with taking on painting your home, either inside or out, as a do it yourself project. And at the top of the list is the massive time commitment required to finish the job in a professional way. For most, they try and squeeze it into a weekend project. But this can take several weekends or even months of time, depending on the size of the project. Do you really want to spend every weekend during the summer painting the exterior of your home?
Lack of knowledge is also one of the top things homeowners don't realize until they are well into the project. For example, you can't begin painting the outside of your home without a lot of prep work first. Paint over chipped or dirty paint, and your new paint won't adhere properly to the siding. Or if you paint a water based enamel over a surface previously painted with an oil based enamel, and you'll quickly see adhesion problems that make your current paint job look anything but professional.
Which leads us to the money aspect of painting. You see the ads in the paper for paint at a reasonable rate. But painting requires a lot more than a bucket of paint and a brush. What about tools for prep work: powerwasher, drop clothes, rollers, caulking and tape? Before long you'll wind up with a huge array of tools and materials attempting to paint your home – and you haven't even started the work yet. How much is your time worth? Do you really want to spend all of your free time for the next several weeks or months painting?
And there is another problem we see frequently. After investing in paint, tools, materials and more, something happens and the paint job looks anything but professional. You attempt to fix it; which of course makes it look even worse. So you wind up calling in a professional to fix the project and bring it back up to standards. How much is this going to cost?
Instead of trying to save a little money upfront, get the job done right the first time. You'll be happier with the results and you can enjoy it in a much shorter period of time. And the results will last you many years into the future.
---
ABOUT US
Paint Denver is your premiere house painting company in the Denver Metro area. We are committed to professionalism, integrity, and sustainability in the painting industry. Living up to this commitment means that we follow through on our promises and treat every customer like they are our only customer while minimizing waste where possible.
Need a Quote on Your Painting Project?
Contact Paint Denver at 303.800.7575 or email Rob@PaintDenver.com
Our Denver painters cover house painting and commercial painting in all of the following areas: Arvada, Aurora, Boulder, Broomfield, Brighton, Castle Rock, Centennial, Denver, Englewood, Greenwood Village, Highlands Ranch, Lakewood, Littleton, Lone Tree, Parker, Thornton, Westminster and Denver Colorado metro area. Specializing in Lowry, Stapleton, Hilltop and communities in Denver Metro.
---