If you are looking for a way to add some style and charm to the rooms in your home, look up!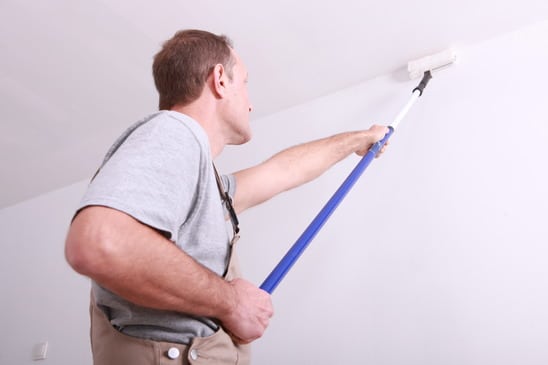 The often forgotten and neglected "fifth wall" offers unlimited options and potential when it comes to personality and sophistication. The ceiling is usually the biggest uninterrupted space, so why wouldn't you use it to add drama and detail? Creativity and some paint go a long way, and ceilings can create a great first impression and wow factor.
The key is to create dramatic effects that draw the eyes up and around the room, expanding its visual height. Your choice of color has a great impact on a room's feel and ambiance. Here are some ceiling painting tips that can help you add style and sophistication to your room:
Make the ceiling the accent wall. You can give a room a touch of a beautiful color or pattern without it being overwhelming. If you have high ceilings, they are perfect for creative treatments. You can bring them down visually by taking the color of the ceiling down just one foot or so. This creates a cozy feel. If you have ceiling tiles, showcase them by painting each tile in a light metallic color to add sparkle and dramatic texture.
Make use of molding. A great addition to add visual interest, molding can be used to highlight light fixtures. They can also help to reflect light off of the ceiling, creating a soft glow.
Metallic paints can create warmth. Metallic colors can be used to give your ceiling tiles an aged look and finish, and they can also make your space feel more relaxing. A dark metallic finish will bring the eye down, and the room's details can be showcased.
Consider the power of color. Rooms with walls that are painted a neutral color are perfect for ceilings with color. Unexpected pops of color create instant personality. Darker colors create an elegant space, so don't be afraid to choose a dark gray or taupe. Neutral colors serve as great transitional colors that carry from room to room.
If you are looking for a way to refresh a room using simple yet effective techniques, begin with the ceiling. You can give your room a complete transformation in no time!