Do you have unsightly, brown water stains on your ceiling?
Water damage can make your  ceiling look extremely unattractive, and this is when a paint job is in order.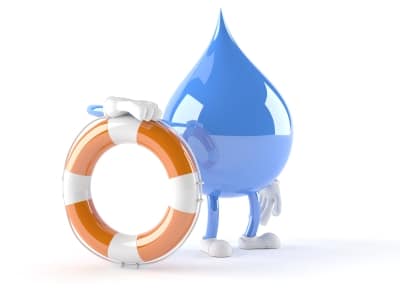 Painting ceilings is usually not an extremely difficult job, but when water damage is thrown in the mix, a simple paint job can become a project in itself. While water-damaged ceilings don't need to be completely replaced, you must take care of the source of the leak first. Painting will then take more time and preparation than regular painting.
Here is how to safely paint ceilings that have water damage:
The first thing you should do is carefully inspect the ceiling. The drywall may be coming loose if the leak was substantial, so test to see if it's loose. If it is, fasten it back into place with screws.
Before cleaning and painting, be sure to move furniture out of the way, and cover them with old sheets if you can't move them.
Clean the ceiling thoroughly, making sure to remove mold and mildew. You can use a mixture of hot water, bleach, and dishwashing detergent. Clean using a sponge to blot the area with the solution, then rinse/blot with plain water. Allow the area to dry enough to paint; this can take up to two days.
Fill any gaps in with spackle, and allow it to dry completely.
Use primer that is quick-drying and oil-based. The oil will seal the stain into the existing paint layer, and then it can be painted over.
Dab the ceiling with waterproof paint. Avoid stroking the brush back and forth, as this can damage any ceiling texture. Dabbing also helps blend the new paint with your existing ceiling by producing a feathered effect. Be sure to apply two coats of paint.
Brown, splotchy water spots on your ceiling is unattractive to say the least. When the water damage to your ceiling is extensive, it may be a good idea to get a professional to do the prep work and painting job for you.