What you love most about your home could also be the thing that stops you from redecorating when the time comes.
When people start looking for homes, the first thing they ask for is open concept design. They love the idea of being able to work in the kitchen, and have easy and unlimited access to other rooms, such as the family room or dining room.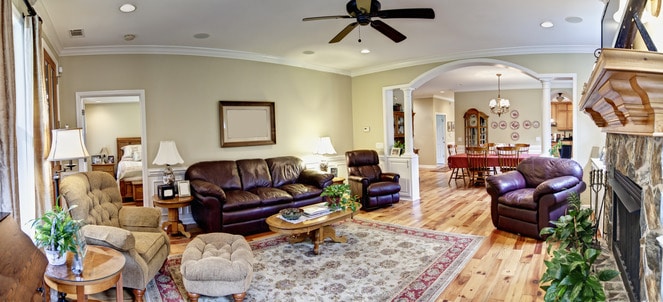 Open concept works when you're living in it. But that changes when it comes time to painting it.
Do you paint it all one color? Or can you change colors and decorating ideas from room to room – even if everything shares a common wall?
Even though adjoining living rooms and dining rooms needn't be decorated alike, in some cases it may be hard to visualize before you begin. Color has a big impact on a room, so choose your colors with care. Yet don't be afraid to make a statement – here's how.
Start With The Color Wheel
One of the best tools available to you as you make changes in your home's color if the color wheel. A color wheel will provide you with complementary colors – choose your favorite and it will help you select coordinating colors to add to your color pallet. When working with adjoining living rooms and dining rooms, choose a color scheme with three different colors for your two rooms. Change out your tones, use colors from light to dark to add interest and depth throughout.
An Easy Way To Connect
When you look at your rooms, you'll find one large wall that connects the two rooms together. Paint that wall one color; then use lighter hues from your color palette for the other walls to open up both spaces. To further the contrast, either choose a lighter shade or a darker shade to make the trim boards and windows stand out.
Individualize and Personalize
Work with your painting professional to create a look that is uniquely your own. With paint and decorating, you don't always have to follow the rules. Chair railings work great in the dining room, with two toned paint colors separating the two halves of the wall. You can use semi-gloss on one wall and eggshell on another – all for visual effect.
Ceilings
Don't forget the "fifth" wall. While the majority of homes have white ceilings, it's the perfect place to add color to really change the presentation of the room. For a slight change, go with a lighter shade of your color palette. Or if you have high ceilings, they are perfect candidates for deep intense color.