If you are searching for a new look for your kitchen and bath, how about the achieving it with new paint? A fresh coat of paint may be just what these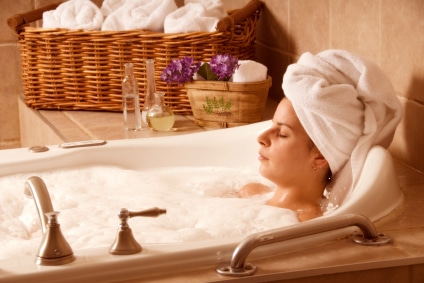 rooms need to create a lovely ambiance with style. There are a multitude of shades to choose from, so how do you go about choosing the best ones for your kitchen and bath? Here are some suggestions!
Best paint shades for your kitchen
Green- A calm and comforting color, green is a great color that coordinates beautifully with natural wood accents and stainless steel appliances. This crisp hue also lends an inviting organic feel to a kitchen.
Red- Pops of red are perfect for a gourmet kitchen that has wood cabinetry and floors. Red looks great with black appliances as well as white marble countertops.
Yellow- If you're looking for an energetic color to lift your mood, yellow fits the bill nicely. Paint light fixtures and walls with yellow for a playful and casual family kitchen color scheme.
Blue- You can create a lovely vintage look to a contemporary kitchen by adding just the right amount of subtle blue. This shade pairs nicely with ivory and brown.
Dig Deeper – When You Should Use a Paint Primer?
Best paint shades for your bath
Blue- Blue provides a calm and serene feeling for your bathroom, especially when paired with white. Try using two different soft shades of pale blue for a peaceful retreat.
Purple- Feminine and uplifting, purple provides a bathroom with glamorous beauty. This shade is also stylishly captivating and grounding, and pairs nicely with white and pastel shades.
Khaki- This beige hue gives a beautiful natural look to any bathroom while providing a clean yet sensuous look. This color goes well with white, browns, and pale blues.
Orange- Give your bathroom a bright and cheery sun-kissed feel with rustic shades of relaxing and stylish orange paint.
This October, give your kitchen and bath a gorgeous makeover with the addition of new paint in captivating shades to create ambiance and warmth for the upcoming winter!
Contact us about your Denver Interior House Painting ideas today.