You've been dreaming of the day you can add that gourmet kitchen to your home, or break down a wall or two and add in a new master bathroom suite.
However, now isn't the time.
If your remodel project has been delayed once again, there may be a way you can love your existing home a little bit more. Without it costing an arm and leg in the process.
Where do you start? With color.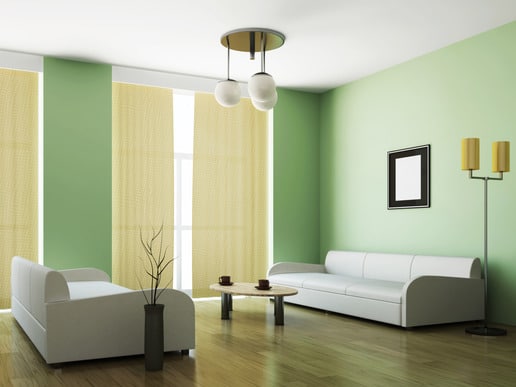 Painting is one of the easiest ways to add color to your space, freshen up a space that's feeling old, and changing your perspective anywhere from "ahh" to "wow" and in between. A professional paint job can give you a clean look, or completely transform the space you are living in. Its all up to you.
Dig Deeper – What You Should Know Before Changing Colors On A Wall
If you stick with the existing color, you'll provide your room with a fresh look. When paint sits on the walls for months and years, it begins to dull and fade, especially in areas where sunlight hits it. The darker the color, the more fading will occur. But even a basic white can show drastic improvements. Plus it will cover up all those marks you've been meaning to cover, yet haven't had the time.
If you change colors, it's a whole new adventure in how your room will look.
Change it a shade or two, and while you won't have a drastic change, it can put your room in an entirely new perspective. A shade or two can bring out the color in your couch, or make the shades in your carpeting appear more vibrant. And it won't be an extreme change that will keep you up at nights, worrying if you made the right choice.
Or live on the wild side and go for a bright, dramatic color change. Making drastic changes may seem difficult, but if you talk with your professional painting contractor first, he can make suggestions to help you choose a paint you can live with. He can point you to trends, show you finished projects, and make suggestions based on your current tastes and décor.
Color is one of the easiest ways to make a bold, new statement. Plus its easily changed; if you want something new or tire of a color, simply paint it again. Let us show you how color can change your home with a Paint Denver Proposal.