If you're looking to give your home a revamp for a small investment, interior painting is the best option. Whether all of your walls need some TLC or a few rooms just need a little updating, interior painting is a simple, low-risk and low-cost solution. So how do you make the biggest impact with a small budget? Being an interior painting company, here are a few of our expert tips to making your home look brand-new without breaking the bank.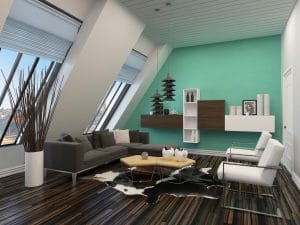 Accent Wall
The money saving tip here is simple. Paint one wall of a space to be the focal point instead of painting the entire room. The accent wall is usually a bolder and more eye-catching color than all of the other walls in a room. For example, if you already have neutral colored walls (i.e. white, beige, gray etc.), you might consider painting one wall a vibrant shade to accent existing upholstery or art work in the room.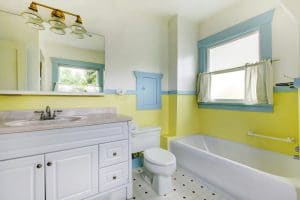 Small Bathroom
Small bathrooms don't have to be plain and boring. Bring life back into a dull bathroom by adding a pop of color via interior painting. Colors should be chosen by determining other accent colors throughout your home (think art or curtains) to create a more cohesive feel throughout the house. Since smaller bathrooms have less wall space than other rooms of your house, less paint will be needed to make a big statement, which means savings for you.

Laundry Room
Laundry rooms are the perfect space to play with the fun bright interior paint colors you love but don't dare to use in the main areas of your home. A bold marigold yellow or playful orange are perfect for these small spaces and might even make the daunting task of doing laundry, a bit more fun!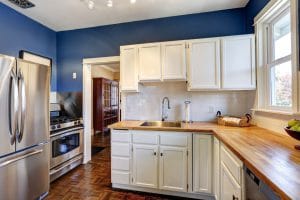 Small Kitchen
You may be surprised by the kitchen making this list, but allow us to explain. Contrary to popular belief, kitchens actually have a pretty minimal amount of paintable wall space. And what small amount they have, should be put to great use by being painted a strong and opposite color than the rest of the room's features. For example, in a small kitchen with primarily white cabinets and backsplash, a dark shade of blue makes the crisp white stand out even more, giving the space needed dimension.
There are plenty of ways to give your home new life with interior painting. By updating a few walls or small rooms, you can give your home the update it needs for a cost you can afford. Our experienced interior painters know how to make a revamp happen quickly and effectively and will leave your house looking better than new! Give us a call today to get an interior painting quote and learn what we can do for your home.