They make it look so easy on television, don't they? They sit around contemplating colors. Then before you know it, they're off the the home improvement store to buy a bucket of paint. Back home, they slap on a little paint …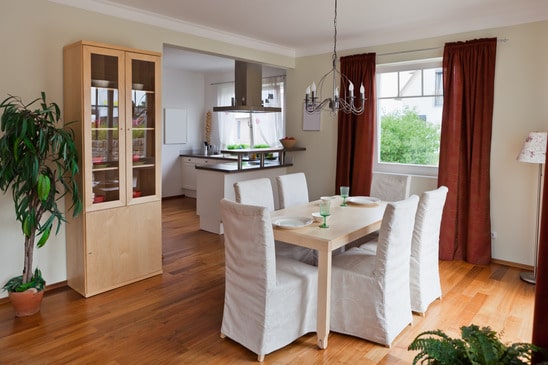 and magic happens! Their room is now a beautiful color with décor that looks straight out of Better Homes and Gardens.
While we know it looks easy on television, in reality we all know its not quite that easy.
Painting a room takes time, effort and a lot of energy. Yes, it can be accomplished in a variety of steps.
Dig Deeper – When You Should Use a Paint Primer?
Step 1 Select your color palette
Yes, this can be one of the trickiest parts of the process. How do you know what will look good? Will it be to dark/bright/colorful/overwhelming/light/obnoxious? Only you can be the judge of that. In reality, anything goes. And with thousands of paint colors to choose from, let your personality be your guide.
Step 2 Choose a paint finish
Every room will perform better with a different paint finish. Flat or matte finishes are perfect for master suites or guest rooms, while satin finishes are a good choice for high traffic rooms like the bathroom or the kitchen.
Step 3 Planning
How large of a room will you be painting? How many color choices will you use? Be realistic in how long the job will take. Nothing can make you more frantic than painting a room with the thought of hosting a dinner party that evening, only to find yourself still working at 4 pm.
Step 4 Clear the room
Before you begin, its best to clear the room out as much as possible. This doesn't have to occur the day of the painting project. A day or two before hand, begin boxing up or moving light weight furniture to other rooms. Move large objects to the middle of the room and fully cover them with drop clothes.
Step 5 Protect floors and woodwork
That bright red paint will look beautiful on your walls … not on your trim board of white carpets. Invest in quality drop cloths and painters tap to fully protect everything that won't be painted.
Step 6 Prep walls
Nope, a paint job doesn't mean slapping on new paint onto existing walls. Are there nail holes that should be filled? What about wall damage? Is the paint chipping or pealing? Before you paint them, make sure they are in the best condition for receiving paint.
Step 7 Clean and dry surfaces
You know that sticky hairspray that's been building up on your bathroom walls? Nope, paint won't cover it, nor will it adhere to it in a perfect manner. When your walls are dirty or sticky or grimy, cleaning them first is the only way to make sure you get a top notch paint job.
Step 8 Paint
Painting your walls is the first step. Then paint the ceiling and trim board is so desired. This allows you to have a clean look and clear up any mistakes you made along the way.
Step 9 Clean
More painting to do later? You don't have to clean your brushes and rollers if you'll be starting in again in the morning. Instead, wrap them in sealed plastic to stay moist until morning. Once you're finished clean up and store for future use.
Step 10 Enjoy
Once your project is finished, you can sit back and enjoy your work.
Sounds like a lot of work, right?
Why not let a professional painter do the work for you? Then you can skip to Step 10 and begin enjoying the results immediately!
Contact us about your Denver Interior House Painting ideas today.