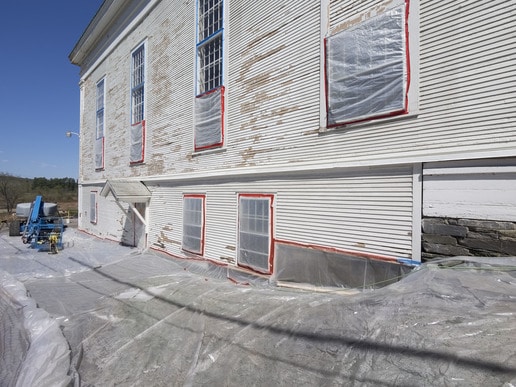 When you are ready to add a fresh coat of paint to your home, it is essential that you prepare the surface before you paint. Prepping the surface for painting will ensure that the new paint looks beautiful. Failure to prep the surface will result in a paint job that looks amateur and unappealing – it will diminish the beauty of your home, and it will not have the long-lasting results that you want.
Before you tackle painting your home, make sure you prepare the surface for a beautiful, finished product.
You will know that the surface needs prepping if the old paint is flaking off, peeling off, or chalking off when you rub your hand across it. Stripping the old paint off the surface is the best way to prep the surface. This can be accomplished through sanding or sandblasting the surface. Sandblasting works best on hard surfaces, such as concrete and metal, because it can be damaging to more fragile surfaces.
Other ways of removing old paint and prepping the surface include power-washing and chemical strippers. Power-washing utilizes high-pressure water to remove the old paint. Power-washing is best for the surfaces of homes because it is less damaging than sandblasting. Take care when using a power-washer. The high-pressure water comes out quite harder and faster than most people expect. Take your time and use caution to ensure that you do not damage your home.
Chemical strippers will remove the paint from the surface, but they require much more caution. You must make sure you wear the appropriate protective equipment to ensure your safety. Follow the manufacturer's instructions to the letter to remove the old paint and keep yourself safe. Failure to wear protective clothing and follow the instructions could result in burns on your skin or other injuries.
If you are ever in doubt, you may want to hire a professional to remove the old paint for you. They have the tools needed to save you time and money, and make the entire process more efficient all the way around.