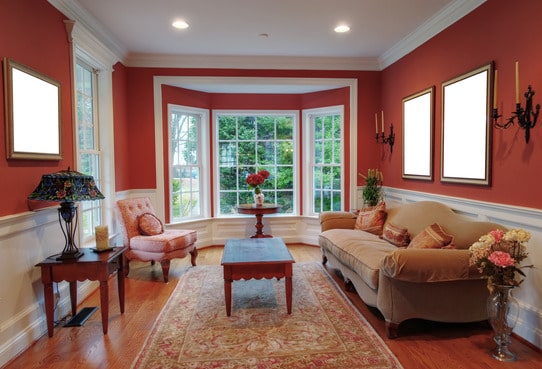 You walk into the room and the color pops. Or maybe its calm and soothing.
The color of your walls is one of the first things noticeable to all that enter. And luckily color is also the easiest thing to change when it comes to your decorating and remodeling.
Using bold wall color can make things exciting, and give each room its own distinct personality. A deep hue is great at bringing out the small details of the room as well as creating an ambiance unique to its situation.
Maybe you've avoided deep colors in the past because the thought of applying something dark and bold leaves you nervous. How will you coordinate it with the décor in the room? What if it overpowers the space?
Before you make a bold selection – or resort back to reapplying the white out of frustration – take this few things into consideration.
First, consider the mood you are trying to create. A bold color in the kitchen may create an atmosphere of energy – perfect for your early morning breakfasts before you head out for your busy day. But that same color might not be the best choice for your bedroom. Instead, a bold green can evoke a soothing and calming feeling, perfect for relaxing in the evening.
Next, take into account the size of the room and the placement of windows. Is there a lot of light in the room? Does the room feel large or small, depending on the décor and the placement of the furniture? A bold color choice with a warm tone can give a room an intimate and cozy feeling. Make the shade more vibrant, and it can add dimension to the room. Choose a cooler shade and it can help to "push" the walls out and give life to a smaller room.
Thirdly, don't decide on your paint color in a quick manner. Do a little research first. Choose a variety of paint sample swatches and place them in the room you will be painting. Look at the color in morning and evening light. Look at it in the middle of the day with sunlight streaming in, and late at night with only the lamps on for light. Which one holds your interest? Also match up with any décor you'll be using in the room to see if it's a complementary shade.
And when you have a question, consult with your painting professional as well. They see paint every day, and can make suggestions based on what other clients have used in their homes.